Everything from a single source and the best technical know-how in the field of ESD protection and prevention of ESD damage, that is what the German ESD network, consisting of the four companies Karl, Keinath, Nora and Wanzl.
From planning a new EPA (Electrostatic Protected Area), to selecting the right ESD flooring, to access controls, to workstations and the necessary equipment and tools, the four companies offer the hardware as well as the expertise to make your manufacturing ESD safe.
In addition, the ESD network offers audits (certification of EPAs), training programs, acceptance of ESD protection zones as well as seminars and training courses for your employees.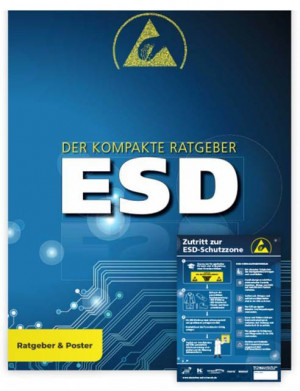 In order to prevent damage to electrostatically sensitive components, the German ESD network has published the compact ESD guidebook. The 32-page guide explains how electrostatic charging occurs, the potential hazards it creates, how to avoid it and how to set up an EPA (Electrostatic Protected Area), as well as listing the currently applicable standards and terminology.
Short, concise, easy to understand and attractively presented, we would like to give you this guide free of charge as a company-internal source of information for your employees. Interested? Then order our ESD guidebook directly on the website of the German ESD Network.